The Best Ground Coffee for Cold Brew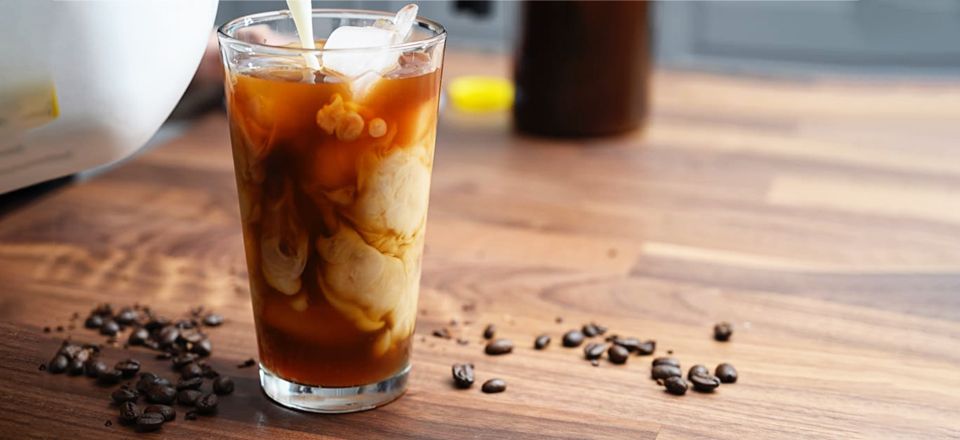 Back in the old days, one would have refreshed themselves on a hot summer's morning by adding ice cubes to regular coffee or leaving it to chill for a bit.
Thankfully, today the market supplies us with just what we need: ground coffee straight off the shelf for your cold brewing pleasure.
It is made specifically to be milder, smoother, and with less acidity than other types of ground coffee.
So we've compiled this list for you to bring you the best coffee for cold brew, expert-approved.
What makes some coffee better than others could be price, taste, or ingredients, but Lifeboost Coffee seems to check a lot of boxes.
It is an excellent all-around option, in addition to it being Mycotoxin- and pesticide-free!
As well as being environmentally friendly, ethically produced, and overall healthy, Lifeboost is a good choice for those looking for an exotic-tasting cold brew with low acidity.
There's a wide range of roasts to pick from, but the medium roast is superb: low acid as well, but with wood and sweet cocoa notes.
Pros
100% Arabica Single-Origin
Mycotoxin and pesticide-free
Handpicked, spring water washed, and sun dried
Acidity levels and flavors make it ideal for cold brew
Cons
Pricey
Packaging not the most attractive
No variety of origins
Not the best with cream and sugar
When it's two brothers sourcing their beans (the finest Arabica, by the way) from Brazil and Ethiopia, you know this will be a cold brew you'll want to try.
The coffee combination in the Coffee Bros. Cold Brew Blend is made specifically to bring out all the sweet and juicy flavors we love about cold brew, with hints of chocolate, berry, and brown sugar.
It uses naturally processed beans that have absorbed the aroma of the coffee cherry pulp during the drying method, intensifying its sweetness.
Because they were made with an emphasized taste and better extraction in mind, this ground coffee blend makes for a killer cold brew.
Pros
100% Arabica
Quality sourcing and small-batch roasting
High-quality packaging ensures long term freshness
Unique roasting technique used specifically for cold brew
Cons
Might be too light for dark roast lovers
Intense aroma
No pre-ground options
Some of the best coffee in the world is grown in volcanic regions, and that's what Volcanica Coffee aims to bring you.
With hints of sweet chocolate and nuts, this medium-roast, cold brew blend has a unique taste profile of a bold Sumatra blend and low-acid Arabica coffee.
Pros
Medium-bodied and brilliantly acidy
Coffee from the most highly regarded growing areas in the world
Beans roasted to order with keep-fresh packaging
Ethically and environmentally produced
Cons
Only makes specialized coffee
No light roast options
Originating in New York, Stone Street has got some of the best cold brew ground coffee on the market.
Sourcing from the best coffee farms and growing regions in the world, their single-origin dark roast Arabica Colombian Supremo beans are considered some of the most fragrant.
Their flavor characteristics are perfectly balanced: slightly sweet and smooth, they boast a bold coffee flavor with notes of fruit, chocolate, and caramel.
Pros
Available pre-ground and in whole bean to ensure freshness
With three-layer foil, they have one of the best packagings on the market
Ideal for cold brewing
Cons
Relatively expensive
Not Fair Trade certified
Coffee aficionados might notice it is not dark roasted efficiently
Everything about the Tiny Footprint ground coffee is unique. It makes use of a one-of-a-kind blend that makes for a sweet and silky aroma with notes of cocoa, nuts, fruits, and flowers.
They claim to be the world's first "carbon negative" coffee. This entails injecting additional carbon dioxide into the soil to save the product from the effects of climate change and in addition, maintains the soil's ecosystem in which the beans grow.
And besides that, for every pound of coffee they sell, they offset that extra carbon they've used by planting trees in the Ecuadorian rain forest.
They're called Tiny Footprint for a reason!
Pros
Environmentally friendly
Pre-ground using modern coffee grinding equipment
Cons
Blend, not single-origin
Bitter aftertaste
Conclusion
We hope this roundup of best ground coffee for cold brew has gotten you closer to the most refreshing glass of cold brew in the morning.
Let us know if you liked this article in the comments below, and if you've got any cold brew-loving friends, share this with them so they know which ground coffee to pick next!