The Best Gooseneck Kettles For Coffee in 2021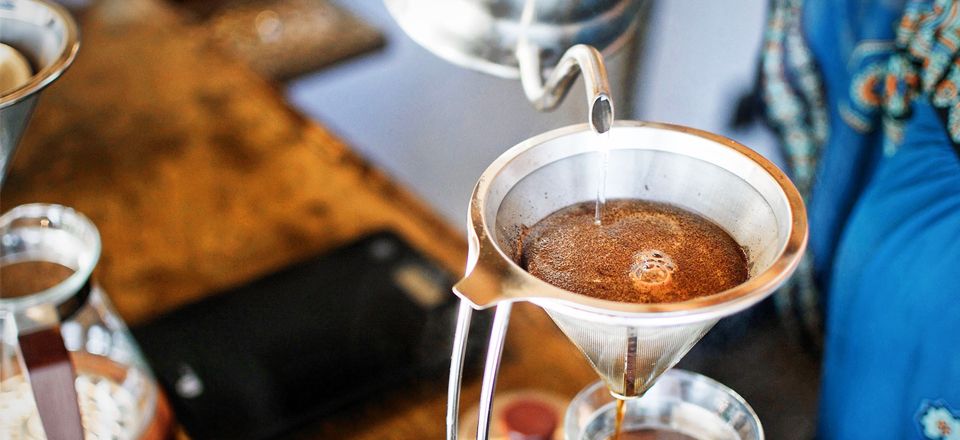 Kettles may seem like they belong in the world of tea, but the gooseneck kettle is undeniably an essential addition to your coffee wardrobe.
Featuring a long, thin neck, using a gooseneck kettle allows for precision in the pourover of water on coffee grounds- a slower, more careful pour allows you to maximize the flavour of your coffee and enhance your brew.
With these kettles rapidly gaining in popularity, it can be hard to choose between the many options in the market. We've rounded up a list of the best gooseneck kettles for coffee in 2021 that can help you up your barista game.
The first pick on our list is for baristas on a budget. Coming in at only $34.99, Bean Envy's Gooseneck Pour Over Kettle is a great option if you're not looking to break the bank for a good cup of joe.
Despite its low price tag, this kettle has everything you could hope for in a gooseneck- an insulated ergonomic handle for precise pouring, a borosilicate glass top and built-in temperature gauge for temperature control, and triple layered stainless steel to prevent rusting.
This kettle also comes highly recommended on Amazon, and has a lifetime warranty and satisfaction guarantee, so the purchase is worry free.
Pros
Ergonomic handle
Easy temperature control
Rust protection
Cons
Less versatility than other kettles such as electrics
A stark contrast from our first pick, the Fellow Stagg EKG Plus Electric Gooseneck Kettle has a heavy price tag- but many think the features it boasts are worth the extra money.
Featuring all the latest technology, this kettle boasts bluetooth connectivity, allowing you to multitask and control your brew from the next room. In addition, the LED display senses temperature in real time, and the built in stopwatch creates a worry free brewing experience.
The kettle itself is made of stainless steel, and is pleasing to the eye. It has nearly a liter of boiling capacity, and comes with a 1-year warranty. If you're willing to spend a little more on a kettle, this is definitely the right choice for you.
Pros
Bluetooth connectivity
LED Display and built in stopwatch
Aesthetically pleasing
1 year warranty
Cons
The Bodum 11883 is another great choice for a budget gooseneck kettle. Unlike the bean envy kettle, this kettle is electric but still falls at a price point lower than most stovetop kettles on the market.
Coming in two choices of colours, matte silver and matte black stainless steel, this kettle is sure to be a great visual addition to your kitchen. It holds 27 ounces, and features a heat resistant cork handle for safe handling. In addition, the kettle detaches from the base, which allows for a smoother, cord free pour.
One downside of this kettle is that it doesn't have a built in temperature gauge, so it won't work for your more particular brews. Nonetheless, this is an excellent choice for those who want a quality electric kettle at the price of a stovetop.
Pros
● Excellent price point
● Cork handle and detachable base for an easier pour
Cons
● No temperature gauge
This Brewista gooseneck kettle is another excellent electric choice. This kettle stands out because of its built-in temperature gauge, which allows you to see and control the temperature with the accuracy to change it by one degree at a time. For the advanced barista, this ability is essential to fine tuning a specific brew.
This kettle also has an excellent flow rate and precise pour. Like many of the other options on this list, it is made from solid stainless steel to keep it working properly for a long time. It also has a fairly large 1.2 liter capacity, so it's great for guests.
Though this isn't the cheapest kettle on our list, it's definitely a great choice for a long lasting kettle that will reliably result in a superior cup of coffee.
Pros
Temperature control
Sturdy, stainless steel build
Large capacity
Cons
This Hario Gooseneck Kettle falls right in the middle in terms of price, and is an excellent combination of practicality, frugality, and aesthetics. It comes in 1 and 1.2 liter silver and black stainless steel variations, so you can choose the perfect model for your kitchen.
The kettle's ergonomic handle and slender spout lead to a precise pour, which is exactly what you're looking for in a gooseneck kettle. However, it has a faster flow rate than other kettles on this list, so a steady hand is necessary.
This is a stovetop kettle, and simply put it's a classic. Based on looks alone, its an essential addition to any coffee lover's kitchen, and it won't let you down in terms of function either.
Pros
Ergonomic handle
Comes in two sizes and colours
Cons
Faster pour rate than other kettles on this list
Finally, the Willow and Everett Kettle is another electric choice that won't break the bank. This kettle is visually stunning, with a beautifully crafted spout and high quality stainless steel that you'll be proud to have sitting on your kitchen counter.
At just under $50, this kettle falls right into the middle of the price scale. It has a capacity of 1L, which is perfect for most households. The temperature preset and electric function allow for a hands off experience- simply set your desired temperature and let the kettle do the work. It also has a "keep warm" function which will keep your water at its desired temperature after boiling.
This kettle provides many useful functions for a reasonable price. The tradeoff is that users report seemingly flimsy material and a hard to remove lid, but if you're looking to try an automatic electric kettle for a low price, this is a great choice for you.
Pros
Temperature preset and keep warm function
Medium price range with excellent features
Cons
Conclusion
Did you enjoy this list of the best gooseneck kettles of 2021? We hope that choosing one of these options as a new addition to your coffee making equipment will have a positive impact on your morning cup of joe.
Let us know what you think in the comments below, and make sure to share with a fellow coffee lover if this list helped you. You'll be sure to improve their next brew too!